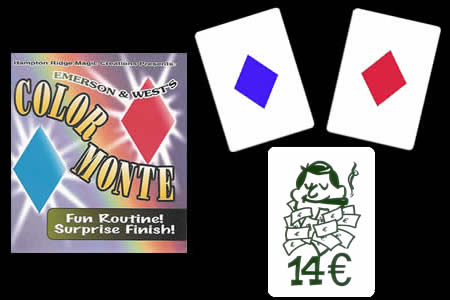 Description
Voilà une bonneteau pas comme les autres qui ne manquera pas de vous surprendre. Il se compose pour le public de 2 cartes avec un losange rouge et d'une carte avec un losange bleu.
Tout au long du tour le magicien fait revivre à son public l'expérience qu'il a vécu lors d'un voyage aux Etats Unis :
"Imaginez, on m'a proposé de parier 1€ à chaque tentative de retrouver le losange bleu. Après 7 échecs successifs, on m'a proposer le Quitte ou Double. J'ai alors accepté, belle erreur puisque je suis tombé sur une carte avec un joker prêt à m'encaisser les 14€ .
Cartes au format poker BICYCLE.


Livré avec un étui 4 flap de bonne qualité pouvant contenir 4 tours de petits paquets.

Return to the catalogue


We advise you with this product :
1.
Color Monte
12.5 €

2.
Super sound monte
34 €