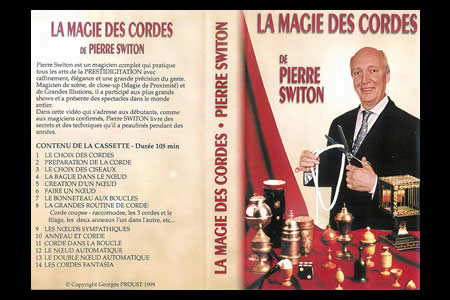 Description
Pierre SWITON
est un magicien qui pratique tous les arts de la Prestidigitation avec raffinement, élégance et une grande précision du geste.
Au sommaire :
Le choix des cordes
Préparation de la corde
Le choix des ciseaux
La bague dans le nœud
Création d'un nœud
Faire un nœud
Le Bonneteau aux boucles
Les nœuds sympathiques
Anneau et corde
Corde dans la boucle
Le nœud automatique
Le double nœud automatique
Les cordes Fantasia
La grande routine de cordes :
- Corde coupée, raccommodée; les 3 cordes et le filage, les 2 anneaux l'un dans l'autre, etc...

Durée: 105 min - Langue: Française

Return to the catalogue




We advise you with this product :
1.
White cord 10 mm
16 €
2.
Yellow Cord 10mm
16 €
Articles of the same author:
Pierre Switon