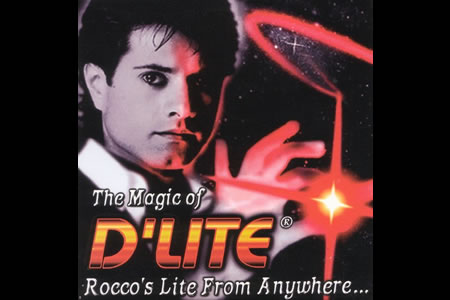 Description
Aujourd'hui,
des milliers de magiciens professionnels emploient les D'Lites
pour amuser des assistances dans le monde entier.
Avec les D'Lites Morph,
vous allez pouvoir hypnotiser des personnes en commandant une mystérieuse lumière
que vous tenez au bout des doigts avec vos mains apparemment nues.
Vous pourrez la faire voyager et
changer de couleurs aussi souvent que vous le souhaitez
; elle passera alors du pourpre pâle, au rouge, orange, vert, en passant par le bleu, puis le rose pour repasser de nouveau au pourpre. Ce cycle continuera tant que l'unité est activée.
De plus, quand ce d'Lite est déplacé il crée un effet unique de stroboscope.
Voici un petit échantillon de ce que vous pouvez faire avec une ou deux D'Lites Morph :
Grâce à lui, vous allez pouvoir :
Faire apparaître une lumière au bout de vos doigts, la faire clignoter à loisir, l'éteindre quand vous le désirez ;

Avalez cette lumière, et pourquoi pas, la récupérer par votre oreille !

Soufflez sur la lumière… qui s'éteint !
Avec deux D'Lite, vous pourrez :
Faire voyager la lumière d'une main à l'autre ;

Dédoubler la lumière ;

La faire passer à travers des objets (foulard, etc.)

Return to the catalogue


You can find this magic item in :
1.
D'lite Color Morph (A pair)
35 €

We advise you with this product :
1.
The Ultimate D'Lite DVD
24 €