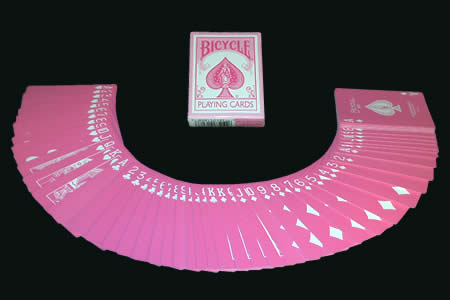 Description
Défiez l'originalité et découvrez dès maintenant la nouvelle gamme de jeux Bicycle pastel !!!
Les dos sont rose pastel alors que sur les face les index sont blanc sur un fond rose !
Il existe également deux autre coloris : Bleu et Vert !!!
Idéal pour un change de couleur… ou pour tout autre effet sorti de votre imagination !
Le jeu est livré tout seul dans son étui rose mais sans notice.
Mais voici des idées qui pourront vous guider pour en faire meilleur usage !!!
A combiner avec un bicycle normal : Imaginez que vous faites choisir une carte dans un bicycle bleu normal et que après l'avoir perdu cette carte détint et devient toute pastel !


A combiner avec un autre jeu reverse : Une carte est choisie dans ce jeu reverse rose… puis lorsque vous étalez le jeu, toutes les cartes sont roses sauf la carte choisie qui s'est changé en vert « reverse » ou bleu « reverse » !


A inclure absolument dans des routines de petits paquets où les cartes change de couleur… passent du rose au vert puis bleu …

La marque Bicycle qui est la plus vendue aux Etats-Unis est également la marque préférée des cartomanes grâce à leur impeccable fini de surface, leur souplesse et leur nervosité. Ce qui fait de ces cartes un accessoire idéal pour toutes les techniques modernes de manipulation de cartes.

Ces jeux sont d'une qualité irréprochable !!!


Format poker : 63 mm * 88 mm


Return to the catalogue


We advise you with this product :
1.
Frixion Ball Pen
7 €