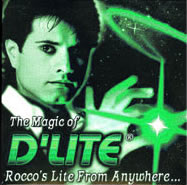 Description
Faites apparaître une lumière, mangez-la, faites-la voyager,
éteignez-la ... à volonté !
D'Lite est probablement l'un des gimmicks magiques les plus incroyables de ces dernières années.
Grâce à lui, vous allez pouvoir :
Faire apparaître une lumière au bout de vos doigts, la faire clignoter à loisir, l'éteindre quand vous le désirez ;

Avaler cette lumière, et pourquoi pas, la récupérer par votre oreille !

Souffler sur la lumière… qui s'éteint !
Avec deux D'Lite, vous pourrez :
Faire voyager la lumière d'une main à l'autre ;

Dédoubler la lumière ;

La faire passer à travers des objets (foulard, etc.)
Même si le D'Lite donne son meilleur effet dans une faible luminosité (en discothèque par exemple), vous pourrez l'utiliser aussi bien dans une luminosité normale car la lumière produite est très crue.
Ce gimmick ne nécessite aucun appareillage sur soi, aucune fourniture de pile (il est fourni prêt à l'emploi).
C' est un effet visuel des plus spectaculaires.

Return to the catalogue


The items from this "Magic Set"
1.
D'lite Vert Deluxe (à l'unité)
16.5 €

We advise you with this product :
1.
The Ultimate D'Lite DVD
24 €