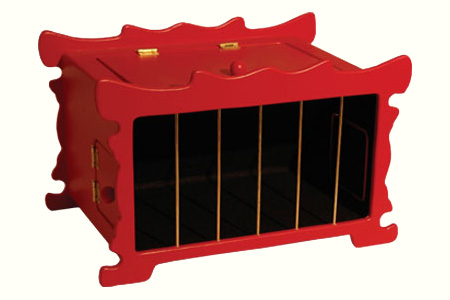 Description
The magician shows the
lovely box
, to prove it's empty. Then he inflates a balloon and introduces it inside the box. When he opens the box,
the balloon busts
and
a real rabbit appears
.
Ballon to rabbit is a lovely wooden box painted in red, which bottom is covered with black felt, and that has high steel bars. It's perfect for stage routines… or even close-up routines.
Sizes:
Length: 40 cm.
Width: 26 cm.
Height: 24,5 cm.


Inside load:


Length: 30,5 cm.
Trapezoid: 2 x 17 x 12,5 x 20 cm.



Delivered without load.



Vous pouvez bien sûr remplacer ce lapin par des colombes ou n'importe quel objet de taille similaire. Un petit effet pyrotechnique peut venir agrémenter l'ensemble. Succès Garanti.
Return to the catalogue
This item is no longer
sold on Magicaplanet