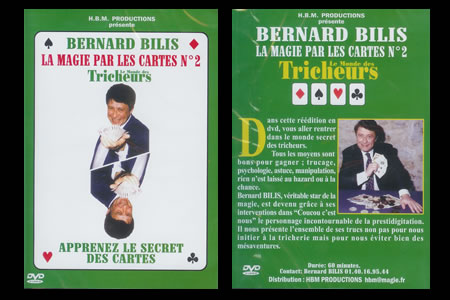 Description
Dans cette réédition en Dvd, vous aller rentrer dans le monde secret des tricheurs.
Tous les moyens sont bons pour gagner ; trucage, psychologie, astuce, manipulation, rien n'est laissé au hasard ou à la chance.
Bernard BILIS
, véritable star de la magie, est devenu grâce à ses interventions dans 'Coucou c'est nous' le personnage incontournable de la prestidigitation. Il nous présente l'ensemble de ses trucs non pas pour nous initier à la tricherie mais pour nous éviter bien des mésaventures.
Langue :
Français -
Durée :
60 min.

Return to the catalogue




You can find this magic item in :
1.
Lot DVDs La Magie par les Cartes
129 €

We advise you with this product :
1.
DVD Tagged (Richard Sanders)
29.5 €

2.
WireGram 3 of Hearts
20 €

3.
Sonata (French version)
40 €